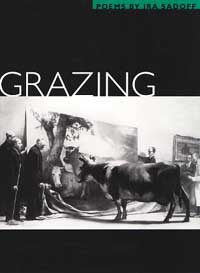 Grazing: Poems by Ira Sadoff


Award winning, widely anthologized poet, novelist, and short story writer, Ira Sadoff has published six collections of poetry, including Emotional Traffic and Palm Reading In Winter. He has also published a novel, Uncoupling, and The Ira Sadoff Reader, a collection of stories, poems, and essays. His poems have appeared in most major literary magazines, including The New Yorker, The American Poetry, The Paris Review, The Nation, The New Republic, Esquire, Antaeus, The Hudson Review, and The Partisan Review. Poems in Grazing have been awarded the Leonard Shestack Prize, the Pushcart Poetry Prize, and the George Bogin Memorial Prize from the Poetry Society of America. He has taught at the University of Virginia, the Iowa Writers Workshop, and currently teaches at Colby College.

"Against Whitman"
Too many speak of whip-poor-wills
as if they knew them.
The trout is not my friend.
Oh, I hear a whistling in the trees.
I hear them praying in their tents,
Sunday afternoons. God's creatures:
I don't even know their nesting place.
I suppose I've been a growling dog,
a dusk, a thunderstorm, an ant
creeping up a leg. Spit, testes,
pine sap, sewage, kisses, maple leaf.
God's sopranos, the whip-poor-wills,
sing for hours at a time.
Do you suppose they mate for life?
I hardly know when I'm inside you.
Don't hate the stranger in me.
I also wish the wall of skin
were just another bridge to cross.


"How heartening to find an already accomplished poet inventing a new voice, with a new richness of experience and insight, and a denser, more intricate music. Reality itself, the reality of the world, and of the soul, seem intensified and renewed in
Ira Sadoff's Grazing: a splendid book."----- C.K. Williams
"Some of Ira Sadoff's poems are nothing less than masterpieces....He belongs in every major anthology,every library.It's a joy not to have to exaggerate when I say that nowhere else in American poetry do I come across a passion, a cunning, and a joy greater than his. And a deadly accuracy.I see him as one of the supreme poets of his generation, coming of age as he--and they--did in the mid-sixties;and I see him as part of a line of trusted singers--James Wright,for one,Bobbie Burns for one, we almost couldn't survive without.Talk about treasures!" --Gerald Stern
"The sweat and rage and tenderness of our intrinsic ignorance seethe behind the shipwrecked seizing on pieces of the world to make sense of it in so many brilliant ways, to move it to another plane of understanding. ... An impersonal, archetypal force inspires this voice and gives it a dimension of vision beyond recognizable reality: it's the new tone and rhythm of a man on the verge of reconciliating some unformulated, agonize, ecstatic rift in the soul. Call it "eye music" as Sadoff does in the title poem, but that merely points to the rare accomplishment and value of Grazing." --Stephen Berg, editor APR
"Beyond the energetic syntax and the astonishing range of idiom and tone, what I so admire about these poems is the just yet always unpredictable weaving together of individual and collective life, the insightful, almost seamless integration of personal experience in all its unredemptive anguish with the heterogeneous realities of American culture." -- Alan Shapiro, Judge, George Bogin Memorial Award, Poetry Society of America
"Celebration abounds but never gives way to sentimentalism in this sixth volume of poetry by veteran author Ira Sadoff. Often spare in his descriptions, Sadoff allows objects and observations to suggest their stories rather than overstate them. In many of the poems, a whimsical but wise voice presides, especially in 'An Improbable Delirium,' where a speaker slyly ruminates: 'Something tells me it's the job of poetry/ to bring some wretched character out on stage,/ to gesture wildly, giving a soliloquy....'"--Carolyn Alessio, CHICAGO TRIBUNE
Praise for earlier work:
"Sadoff slowly broods his books into being, and the reward for our work is a beautifully sustained volume in which every poem seems necessary .... This double vision, a risk-drenched equipoise between inner and outer realities, that marks Sadoff's maturity, result(s) in poems that sing the blues, poems that are deeply, but not strictly, personal." --The Virginia Quarterly Review
"If Sadoff possesses an enviable visual sense, he also has a marvelous ear; there are passages in these poems that should be heard as well as seen." --Joel Conarroe, Washington Post Book World

MY MOTHER'S FUNERAL

The rabbi doesn't say she was sly and peevish,
fragile and voracious, disheveled, voiceless and useless,
at the end of her very long rope. He never sat beside her
like a statue while radio voices called to her from God.
He doesn't say how she mamboed with her broom,
staggered, swayed, and sighed afternoons,
till we came from school to feed her. She never frightened him,
or bent to kiss him, sponged him with a fever, never held his hand,
bone-white, bolted doors and shut the blinds. She never sent
roaches in a letter, he never saw her fall down stairs, dead sober.
He never watched her sweep and murmur, he never saw
spider webs she read as signs her life was over, long before
her frightened husband left, long before
they dropped her in a box, before her children turned
shyly from each other, since they never learned to pray.
If I must think of her, if I can spare her moment on the earth,
I'll say she was one of God's small sculptures,
polished to a glaze, one the wind blew off a shelf.



Return to Ira's Homepage
http://www.press.uillinois.edu/f98/sadoff.html