BIOSTRATINOMIC PROCESSES IN VOLCANICLASTIC TERRAINS
Plants and plant parts may be preserved within either:
volcaniclastic sediments generated by extrusive activity (rare)
mudflows and debris flows in areas surrounding the volcano
depositional environments (e.g. lakes) created as the result of volcanogenic activity
air-fall tephra
An excellent preservation potential for trees, logs, and stumps exists in coarse-grained volcaniclastic sediments. The best potential for preservation exists when significant quantities of ash are generated burying the local vegetation.
BLAST EFFECTS: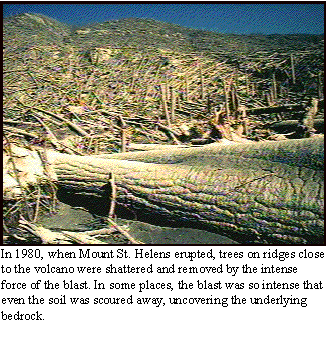 Depending upon the distance from the blast site, trees subjected to blasts, surges, and debris avalanches may be:
completely vaporized near the site of emission
knocked over, stripped of limbs and bark, and oriented radially away from the vent
scorched and killed but remain standing
transported by debris avalanches and mudflows into drainage systems.
DEBRIS FLOWS AND LARGE WOODY DETRITUS:

Trees may be transported as logs (oriented to flow with basal end upstream) and erect stumps.
Criteria to distinguish transported upright stumps from in situ upright stumps in volcaniclastic terrains (after Fritz & Harrison, 1983).
FACTOR
TRANSPORTED
IN SITU
Trunk:Root ratio
<1
>1
Large Roots
Broken
Intact
Small Roots
Intact
Intact
Roots Entwine Boulders
Yes, small ones
Yes
% Vertical Stumps
<10%
>10%
Facies
Channel Fills
Fine-grained, Lacustrine, Floodplain
Soils
None
True Paleosol
Low Velocity, highly viscous flows are the best medium for the transport of upright stumps.
High Velocity, highly fluid flows transport trees as horizontal logs or pulverize the vegetation into macrodetritus. Pyroclastic flows and ash-flow tuffs preserve mostly horizontal logs that have been burned to charcoal (fusain).
AIR-FALL TEPHRA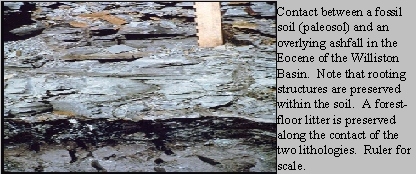 Leaf Assemblages in volcaniclastics present a variety of vegetational representations depending upon the position of the deposit relative to the eruptive vent.
Proximal volcaniclastic deposits present a distorted picture of the original assemblage.
Distal volcaniclastic deposits present an excellect record of the local vegetation.
Forest floor litters can be incorporated into the coarse clastic fraction of the initial airfall ash providing an accurate estimate of the species composition and structure of the surrounding forest preserved in a tanatocoenosis (death assemblage).
Leaf assemblages are generally horizontally layered, although some contortion may occur where leaves have been subjected to larger pieces of pumice.
The horizontal character of the litters does not infer the catastrophic conditions under which these beds form.
The superposition of various leaf assemblages within a complex eruptive event must be interpreted with caution.
| | |
| --- | --- |
| | For More information about the Mount St. Helens Blast |
© Copyright 1997-1998 by Robert A. Gastaldo. All rights reserved. No part of these lecture notes may be reproduced or transmitted in any form or by any means, electronic or mechanical, including photocopy, recording, or any information storage and retrieval system, without permission from the author.
<!A HREF="paleobsyllabus.htm"><!IMG SRC="../Images/BACKSyllabus.gif" align="right" border="0"><!/A>