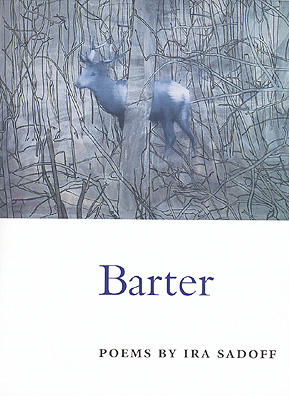 The Soul from Barter
Ira Sadoff's new volume of poems opens with a quotation from Rilke: "But because truly being here is so much; because everything here / apparently needs us, the fleeting world, which in some strange way / keeps calling us...." The poetry collected here is a response to this call.
Rooted firmly in the "fleeting world," Sadoff's poems delve deeply into the personal as well as global past. The work dramatizes the power of culture to interject itself, creating fissure between our inner and outer lives. The poems wrestle with the pressures of commerce, the trading of bodies, the way we as a nation "use," exchange and bargain to evade the urgency of our time on earth.
In "Self-Portrait with a Critic," Sadoff makes a succinct statement of purpose: "And inside, let's not make it pretty, / let's save the off-rhyme and onomatopoeia/ for the concert hall, let's go to the wormy place / where the problematic stirs inside his head."
"Ira Sadoff is a master of language, of concentration, of vision, of knowledge, of irony. If there are ten important poets writing in English today, he is one of them." - Pulitzer prize winning poet, Gerald Stern-

"Ira Sadoff's compelling journey through poetry involves breaking out of the box in which "I took everything personally," in which the poet feels like "a thumbnail sketch of the universe." His edgy new poems examine the uses of language, story, and history while grappling with the meaning of responsibility, to oneself and to others, in our time. They succeed in getting to "the want want want that wells up and scatters / in the place where we're broken. . . ." - Robert McDowell-

"Intense in focus, dense in material both personal and part of the collective culture....it is defiant, questioning, always questioning what we know, can know .... No one escapes the exact and objective attentions of Sadoff's new poems....balancing the books of the past with his fierce rhythms and imagery and taking on a moral responsibility in the details, in what he holds up for witnessing and praise." -AMERICAN POETRY REVIEW-

Poet, fiction writer, critic, Ira Sadoff is Dana Professor of Poetry at Colby College, and the author of numerous books, most recently Grazing(1998). He is the recipient of the American Poetry Review's Jerome Shestack Prize, Poetry Society of America's George Bogin Memorial Award, the John Simon Guggenheim fellowship in Poetry and a Creative Arts Fellowship from the NEA.

______________________________________

Published April 2003
Order from:
The U. of Illinois Press
1325 S. Oak Street
Champaign, Il. 61820

http:www.press.uillinois.edu/s03/sadoff.html

Paper, ISBN 0-252-07120-4. $15.95
Cloth, ISBN 0-252-02834-1. $34.95