p-adic Numbers: an Introduction
by Fernando Q. Gouvêa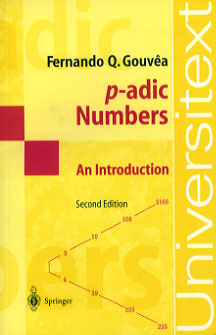 My introduction to the p-adic numbers was last reprinted in 2003 by Springer-Verlag. (You can tell whether you have the new printing because this one has my photo on the back cover.) We took advantage of this third printing (of the second edition) to correct a few typos. In so doing, as is inevitable, we introduced other typos. See below for errata.

This book is aimed at advanced undergraduates and graduate students interested in beginning to learn about the p-adic numbers. It is written in a way that I hope makes it usable for independent study as well as for a class. It covers only the basics of the theory. The idea is to set you up for the deeper treatments and applications you will find in graduate texts and research monographs. An annotated list of some of what is available appears in an appendix.

p-adic Numbers is part of the Universitext series from Springer. The ISBN is 3-540-62911-4. You can buy this book through Amazon.com. (The page at Amazon.com has a couple of really nice reader reviews.) You can also order it directly from Springer.








---
Errata
I'll try to collect here any typos or mistakes that are brought to my attention. If you think you've found something, send me an email!
So far, all I have is one... but I'm sure there are more!
p. 218, displayed equation before problem 324: the last index should be m, not i. Two lines later, αi < -m should read αi ≤ -m.
---
Fernando Q. Gouvêa ---- fqgouvea@colby.edu Last modified: Sun Jun 20 11:30:06 Eastern Standard Time 2004