Priscilla Doel
---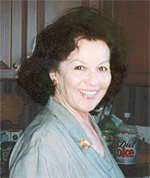 As Professor Priscilla Doel enters her thirty-sixth year of teaching, she does so with continued enthusiasm for the positive changes she has seen take place at Colby and for the wonderful students she knows and teaches. Students from all four classes keep her in touch with student perceptions of the worlds in which we live. Intermediate Spanish ( the final language requirement course for many students), Conversation and Composition (lots of provocative discussion), Questions of Identity, Space and Power ( an exploration of these issues through literature) occupy her teaching for first semester. Second semester brings either an in-depth study of the Quijote into the Spanish curriculum or Images of Women in Hispanic Texts.

Professor Doel is committed to volunteerism and her non-profit organization Maine Service Advocates in Foreign Languages and English (Maine SAFE).
Following the success of Port O'Call: The Portuguese White Fleet in Saint John's Newfoundland (available from ISER Press), she continues to develop her research on other aspects of the Portuguese White Fleet. In September of 2000, to celebrate the launching of The Portuguese in Canada: From the Sea to the City, edited by Carlos Teixeira and Victor M.P. da Rosa, University of Toronto Press, the Consulate of Portugal in Toronto, Canada hosted a conference dedicated to the theme of the Portuguese in Canada. Priscilla was one of the contributing international authors with her chapter titled "The White Fleet and Iconography of Control." At the conference she chaired the morning session and delivered a paper titled "A Frota Branca e A Simbologia do Poder."
---