New Socks!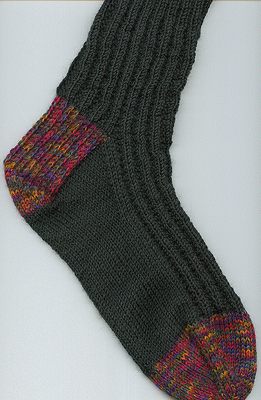 These are Andy's new socks. I have often used variegated yarn for the socks and contrasting solid colors for heels and toes, but this is my first reversal of that mode. My cousin Andy wanted the solid conservative look but conceded that wild heels and toes would be fun. I find I really, really like the variegated heels and toes on solid color socks. The stitch is a variation on Blueberry Waffle socks--my mistake actually. It amounts to a 2k/2garter rib that is very stretchy and comfy. The solid is Regia solid--very nice yarn! and the multi is my favorite, Jawoll.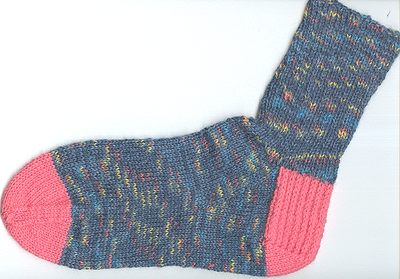 The sock I made for my sock pal out of Jahwoll and a matching cashmere/nylon/wool blend. Turned out looking very cool!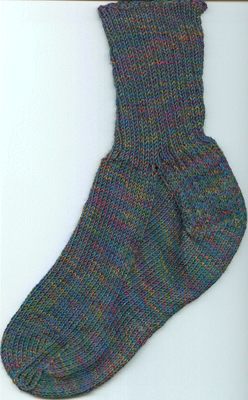 These are Jawoll cotton socks, Very neat colors, but a very plain sock!
And bit of detail on the color below!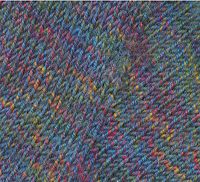 Anniversox--Based on an aran braid cable sock pattern but using the hugs and kisses (XOXO) cable.
Pattern now posted! Link to picture or name
This sock uses a reversible garter and rib stitch that is VERY stretchy. I chose a variegated superwash yarn and matching solid fuschia for heels and toes which are done in garter stitch (the heel is an afterthought heel so I could maintain the pattern). I think it turned out beautifully.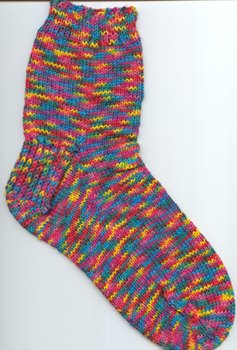 Fortissima Colori is wonderful. New socks for Jen--farbe 1/Partie 129462, for those who are interested in the color no. and dye lots. Very plain sock but she loves it.