Millard Research Team, Summer 2007


Professor Julie Millard, Megan Watts '08, Adam Newman '07, and Sharonda Bradley '10 (left to right).

Julie T. Millard
Dorros Professor of Life Sciences

Department of Chemistry
5757 Mayflower Hill Drive
Colby College
Waterville, ME 04901
(207) 859-5757
jtmillar@colby.edu
Research Interests:
The Millard research group is interested in the interactions of small molecules with DNA, focusing on the question of how some small molecules cause cancer whereas others act as anti-cancer drugs. We primarily use polyacrylamide gel electrophoresis to examine DNA sites targeted by interstrand cross-linking agents and to probe structural abnormalities induced by cross-linking. We are currently most focused on diepoxybutane, the metabolite of butadiene believed to be responsible for increased levels of cancer in those exposed to it industrially. Click here for more information about our work.
Our work is funded by the Petroleum Research Fund, and we are grateful for past support from Research Corporation, the National Cancer Institute, the Clare Boothe Luce Fund, and the Camille and Henry Dreyfus Foundation.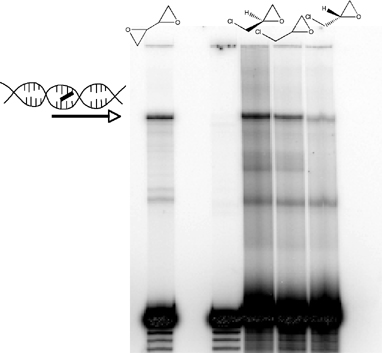 These pages last updated June 2010.